2020-2021 Staff Directory
editor-in-chief
Ari Fahimi
Ari (he/him) is a third-year Chinese and Middle Eastern studies double major. He is interested in Chinese and Iranian connections, as well as international relations, both modern and ancient. He joined Aleph in the winter of his freshman year, and loves Aleph because of the collaborative environment it fosters among its staff in addition to the impact student research can have in fostering discussions and change.
---
Co-Chief Developmental Editor,
Blog Editor
Bruce (Yuhan) Mei
Bruce (he/him) is a third-year student double majoring in psychology and communications. He plans to go to graduate school in organizational behavior. He is particularly interested in research about how social and organizational structures shape human behavioral patterns and how to nudge people toward better lives. He loves Aleph because he cherishes the platform it creates for all UCLA undergraduates who wish to make a long-lasting real-world impact through their own original ideas.
Co-Chief Developmental Editor
Marisol Huerta-Ontiveros
Marisol Huerta-Ontiveros (she/her) is a third-year history major with minors in Spanish and global studies. Her interests lie primarily in Latin American history and international relations. She joined Aleph in the winter of her freshman year and has stayed since then for the inclusive environment it provides to all students and the important student research that Aleph highlights and promotes.
---
Chief Blog Editor,
Website Manager
Eva (Yanqin) Li
Eva (she/her) is a third-year psychology major intending to minor in professional writing. Her interests include spreading awareness for mental illnesses especially eating disorders as well as creative writing. She joined Aleph in her second year and continues to work here because she appreciates the supportive environment and how intelligent and approachable every member is.
---
Chief Layout Editor,
Blog Editor
Ishani Desai
Ishani (she/her) is a fourth-year transfer student majoring in history and minoring in public affairs and professional writing. She got involved with Aleph her junior year and fell in love with the editorial process. What she loves most about Aleph is the opportunity to contribute to the ongoing academic dialogue through research and the collaborative process between the author and the editor during the publication process.
Chief Layout Editor (Fall Quarter)
Winnie (Tingyue) Wang
Winnie (she/her) is a third-year double major in business economics and statistics, with a minor in film and television. The research topics she is interested in include behavioral economics or finance, and film and social change. Her hobbies are baking, design and drawing. She joined Aleph in the spring of her first year at UCLA. She loves Aleph because it provides a great platform for UCLA undergraduates concentrating on social science to publish their own academic research work. Here she met a bunch of like-minded people to make this warm family better and better.
---
Outreach Coordinator
Leika Keys
Leika (she/her) is a fourth-year political science (American Politics) major with a minor in film & television. Her interests vary from Japanese politics, UK politics, the study of right-wing media, to Internet culture and food culture. She wants to thank everyone who has and will submit their research to Aleph for contributing to the journal, the greater UCLA community, and (as corny as it sounds) the world.
---
Graphic Designer (Spring Quarter)
Laura Grombone
---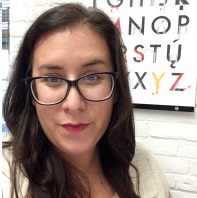 Faculty Advisor
Jacquelyn Ardam
Jacquelyn Ardam (she/her) is the Assistant Director of the UCLA Undergraduate Research Center for the Humanities, Arts, and Social Sciences. She received her PhD in English at UCLA in 2015 and has taught at UCLA and Colby College. She has also worked as a writer and editor for over a decade. You may reach her at jardam@college.ucla.edu.
Graduate Advisor
Laura Ha Reizman
Laura (she/her) is a PhD candidate in the Department of Asian Languages and Cultures. Her research re-evaluates post-1945 South Korean history by examining the history and representation of mixed-race Koreans born of and after the Korean War. Before entering the PhD program, Laura worked in nonprofit grant writing, event planning, and publishing. She loves teaching and mentoring and enjoys working with students at all stages of research. As Graduate Advisor of Aleph, she helps staff gain a better understanding of the publication process and hones their editing skills.
---
To view general staff directory, click here.